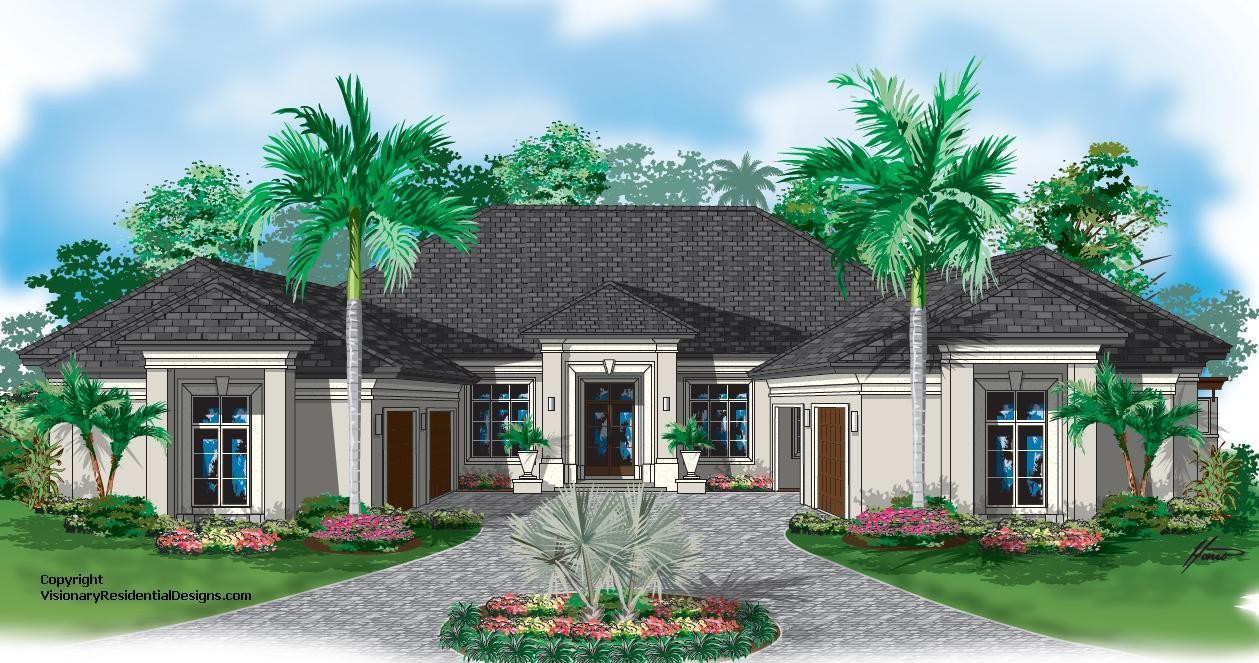 We were asked by Harwick Homes to design a new Custom Spec House in the Woodlake subdivision of the Bonita Bay Golf Club. The existing house is to be demolished and a new 3,900+ SF, Custom Spec Home will be built. This new Custom Spec House has a clean symmetrical façade with garage wings flanking the Entry and central motor court and circular drive with beautiful and fully matured oak trees.
As you enter the house, you notice the open floor plan concept with a generous foyer and appropriately sized parlor from which you can view into the family room areas. All of these rooms are defined by columns and ceiling treatments yet maintaining the open floor plan concept. There are 4 full suites with their own baths. One of the suites can also be used as a Study. The Kitchen has a pantry and is open to the Family Room and Dining Rooms with views towards the rear lake.
The rear facing Family Room, Dining, Parlor, Study and Master Suite have direct views towards the lake and a professionally designed Pool-Scape. The Veranda and Outdoor Living Room wrap around the entire rear connecting all of these rear-facing rooms under cover. The Outdoor Living also contains an Outdoor Kitchen and a Fireplace.
If you happen to be around the Woodlake Subdivision in Bonita Bay Golf Club, please pass by and check out the progress of this beautiful house. If you are interested in purchasing this Custom Spec House, please contact Harwick Homes.